Koksijde 2020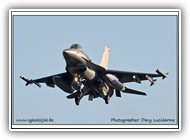 Koksijde : January and February
Traditionally the year starts with (more than usual) F-16 practice approaches, and this year was not an exception. On the first flying day of the year, the D-Day striped 349 Sqn F-16 and 20 Sqn C-130 visited Koksijde for some training approaches. The first full stop visitor was Agusta H-31 on the 3rd of January. On the 15th an Irish Air Corps AW-139 helicopter crossed overhead on its way to Liege for maintenance. On the 28th a RAF Chinook crossed the airfield on its way to the north, probably to Norway for winter training.

On the 10th of February another RAF Chinook passed overhead on its way to the north. As the Irish Air Corps AW-139 274 passed on its way to Liege in January, this was the sign that not long after that another one would return back to Ireland. On the 11th of February AW-139 278 came back from maintenance in Liege. On the 18th Federal Police Air Support MD902 G-17 came in for fuel after an intervention in Koksijde. Before landing at the airfield they landed at the soccer field in Koksijde village. G-17 is the latest addition to the MD902 fleet of the Federal Police. Furthermore the usual visitors of the Belgian Air Force came to Koksijde for training approaches throughout the month.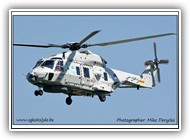 Koksijde : March and April
March brought us some marchetti's which made training approaches. On the 4th, 10th and 12th some even made a full stop landing. On the 6th, C-130 CH-05 made five IFR approaches, and on the 9th CH-09 made three approaches. Some F-16's from Kleine Brogel found their way to the coast as well and brought us some jet noise. On the 9th a MD902 from the Police Air Support Unit made a fuel stop after a mission in the surroundings of Koksijde. Due to the COVID-19 virus, Belgium went into a lock-down as from the 18th of March, and so this was the end of regular military flights. As from then only strictly necessary flights to maintain the qualifications of the pilots were executed. Also the airbases were open only a couple of days per week. On the 30th NH-90MTH RN-06 from the 18th Sqn in Beauvechain came to practice some winching exercises on one of the bunkers on the airfield.

April was very quiet with only some movements on the few days the airfield was open. The only visitors we had were some F-16's which made IFR approaches. On the 23rd a Royal Netherlands Air Force NH-90NFH made a fuel stop on its way to De Kooy coming from Culdrose. They had to terminate their mission on a ship due to the COVID-19 virus and returned home earlier than planned. On the 29th two F-16's from Kleine Brogel performed two base attacks which could be heard from far away!