Koksijde 2022
Koksijde : January and February
As of the beginning of the year, the Danish Air Force CL-604 based at Lille-Lesquin airport in Northern France, was swapped with a French Customs Beech 350 to fly the Frontex surveillance missions along the French-Belgian shoreline. On the 5th an Irish Air Corps AW139 277 flew over to Liege to undergo deep maintenance at the Leonardo facilities. Along the usual Marchetti and F-16 training approaches some A.109's came in for fuel stops during the month. The first international visitor of the new year was a Royal Netherlands Air Force Cougar helicopter based at Gilze Rijen.

On the 5th of February the French Customs Beech 350 was swapped with a brand new Italian Customs P-72B to fly the Frontex surveillance missions. On the 10th two Royal Netherlands Air Force PC-7's came to Koksijde for some training IFR approaches. On the 23rd six British Helicopters crossed overhead to Eindhoven to take some fuel on their way to the east. Both formations consisted out of one Royal Air Force Chinook and two Army Air Corps Apache helicopters. The first formation even made a low pass along the tower which was very impressive to see.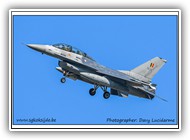 Koksijde : March
Besides the usual Marchetti and F-16 training approaches, some foreign helicopters passed overhead Koksijde this month. On the 10th a formation of four Army Air Corps Wildcat helicopters passed along the coastline to Gilze Rijen for a fuel stop on their way further eastbound. The next day all but one British helicopters that passed over Koksijde on the 23rd of February, crossed again on their way to the United Kingdom. The tower requested all the helicopters to make a low pass and but only two apaches made a detour to make a low pass overhead RWY11. The second formation only crossed overhead at 1000 feet. The second Chinook went straight over sea from the Netherlands to the UK without following the coastline. On the 16th A-400M CT-03 made three low approaches on RWY11 which was an impressive sight. On the 17th two NH-90TTH from the 18th Sqn MRH in Beauvechain made a low approach on their way to Le Touquet in France, and did the same on their way back. On the 22nd NH-90TTH RN-08 made a low approach on its way to Lombardsijde for some firing exercises. From Monday 28th of March till Friday 8th April some panther crashtenders were transferred to Koksijde to allow A-400M training and on the second day CT-04 came to make two touch and go's. On the 30th the 350 Sqn special tail F-16 made one low approach on RWY11.